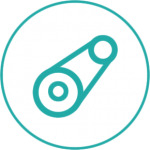 Konus Konex is a manufacturer of high-performance drive and conveyor belts that are resistant to temparature, abrasion, dust and oil. They are used in various industries.
FLATEX power transmission belt
We are a producer of FLATEX – flat power transmission belts types GG, GT, LL, LT, TT and DG with naylon core.They are available in rolls of 500 mm width and they can be also cut to desired dimension.
Timing belts:
PU and (T5, AT5, T10, AT10, T20, AT20) double sided
RUBBER and (2M,3M,5M,8M, 14M, MXL,XL,L,H,XH,XXH) double sided
Section V-belts:
Classical (Z, ZX, A, AX, B, BX, C, CX, D, E)
Narrow (SPZ, XPZ,SPA, XPA, SPB,XPB, SPC, XPC)
Hexagonal (AA, BB, CC, DD)
Variable belts:
Round belts: Diam. (2,3,4,5,6,7,8,9,10,12,15)
Ribbed belts: Poly-V: PJ, PK, PL, PM
Conveyors
We manufacture different conveyor belts from the following materials:
PVC
POLYURETHANE
ELASTOMER
SILICONE
RUBBER
Available in different dimensions and with different profiles and side corrugations.
Joints can be made overlap, skived, step, finger joint and with metal or plastic clasps.
The Rubber and Silicone Plates
Intended for different applications, different thickness and hardness available.
furniture production (veneer press)
for belt convergence
leather industry
silk screen printing
photovoltaic